DACHSHUND FANCIERS OF CENTRAL VIRGINIA
"THE LONG AND SHORT and WIRE OF IT"
NEWSLETTER VOL. 14 NO. 1
MARCH 2004


Dear Dachshund Friends,

Hard to believe we are almost a quarter way through our club year. Weather events seem to be making it hard for us to make any forward progress. But hopefully with that out of the way we'll have nothing but fair winds and sunshine for the rest of the year.

I hope you will try to make it out to our Earthdog Day at Pat Rock's home in a couple weeks. We had a great time 2 years ago, and I expect the same this time. It should be a smaller group, but hopefully that'll mean we can let our dogs have more than one chance at the "ratties". I can't wait to try my Dixie—who was way too young to understand it all the last time.

Our show is also creeping up on us. Mary Ann M. has been working hard on the plans and we have finally received our approvals from DCA and AKC. The trophy theme will have a Southwest flair, and we'll be having an honest-to-goodness pot-luck lunch for fellowship for our club and our exhibitors. We've tentatively discussed either a taco or chili feast to go along with the theme"…but we'll need everyone to put on their thinking caps to help us fill in the gaps. Also, remember to keep the days free (June 19 and 20) as we'll be needing lots of hands to keep things running smoothly. Even if you don't show, or have never helped out before, there is always something for everyone to do!! We NEED you!!

Two other items are high on our agenda this year. First, and seemingly always, is our need to do some fundraising. If we are ever to do a stand-alone specialty, or to make our current specialty plan really top notch, we have to continue to consider ways to add to our treasury. I hope we'll be able to come up with some ideas this year, and hope everyone will contribute—either hard work or cold hard cash!! (Watch for those trophy donation forms coming out SOON!)

Another item that we need to address is updating and toughening up our Club Code of Ethics. There are a couple items missing from our code which I believe are terrible oversights, so I'd ask you to read through your copy and think about what that Code should mean to all of us and the dachshunds we produce and love.

Finally, I'd like to thank Kitty J. for her diligent attention to our meeting Minutes and Announcements, Barbara F. for keeping our membership arm afloat, Sarah G. for fielding the many puppy referrals, and anyone else who contributes to our club in any little way. A team is only as strong as the sum of its parts, and the more of us who contribute to DFCV, the stronger we are as a club. I'd like to especially single out Mary Ann M. for the incredible job she does…not only is she doing the lion's share of the work on the Specialty, but she's also volunteered to take over the Newsletter…we won't even mention that she also took the lead on the Earthdog Day. To say that we owe her a great debt of gratitude is an understatement.

I look forward to seeing you all either at our Earthdog Day or at our first 2004 meeting on March 16th. We'll plan to have as short a meeting as possible so that we can enjoy popcorn and a short movie…hopefully the AKC Dachshund video.

See you then!

MaryAnne Teal



Brags………

Surely you people have been "out behind your dachshunds" and have SOMETHING to report!

Information reported here does not have to be conformation/show information - brags are an important way of keeping your friends informed of your "off the couch" activities with your four legged friends, or some other significant activity in your life - a new job? kid off to college? new car?

Submissions accepted electronically at - you must place "DFCV" in the subject line or I won't open your email! Or you can snail mail me at 4520 Three Chopt Road, Gum Spring VA 23065

FOR THE RECORD: no one submitted any info to the newsletter, that's why you are being overrun with Cannon and Libbie stories…
Mary Ann Massie

Apple Hills Liberty SS CGC, owned by Mary Ann Massie, passed her tracking "certification" and is ready to earn her Tracking Dog (TD) title. Libbie was entered in a tracking trial in early February but the "ice man cometh" and they canceled the trial - almost never happens! So she will be entered in a trial in late March in Maryland. Stay tuned. Libbie also earned two more points toward her conformation championship in Greenville SC - only two single points needed. So hopefully I can soon report on her Ch title AND a TD title. Remember titles come in front AND behind - performance titles generally are noted behind the name. AND performance titles mean YOU have gotten off the couch too!!! Get moving gang!

Ch Hildisvin Howitzer SS CGC CD and his owner Mary Ann Massie were chosen as a demonstration team for an American Kennel Club "Obedience Judges Seminar". "Cannon" and Mary Ann were part of the novice demo team along with our friend Beth Goodbody and her German Shepherd dog "WoJo". (You all remember Beth and "WoJo" from our tracking workshop held last year in Louisa.) The Judges Seminar, hosted by Richmond Dog Obedience Club, is an educational event for judges and obedience exhibitors - you learn the ins and outs of scoring! It was a great experience overall and a wonderful opportunity for people to see a HOUND doing well in a sport dominated by the herding group. Everyone was very complimentary of Cannon and his work ethic.
Happy Heeling - Mary Ann M.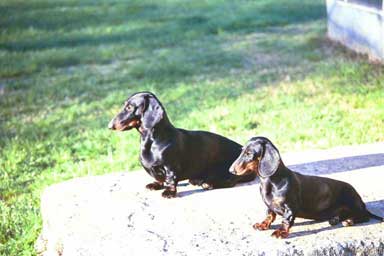 Cannon and Libbie Massie

MARCH 6 EARTHDOG WORKSHOP @ THE HOME OF PAT ROCK IN TOANO.
LOOK FOR PICTURES IN THE NEXT NEWSLETTER.

We've come a long way baby……….no pun intended to our wieners!
2001 DFCV held its first Specialty in conjunction with the Virginia Kennel Club All Breed Show and Obedience Trial. We had "majors" in Longhair bitches, smooth bitches, and wire dogs and bitches.
Our trophies were engraved glass. Our net loss of the show was $43.56

2002 DFCV held its second Specialty in conjunction with the Virginia Kennel Club All Breed Show and Obedience Trial. We had "majors" in all coats, both sexes. We expanded our program to offer sweepstakes classes.
Our trophies were embroidered items. Our net gain for the show was $73.80

2003 DFCV held its third Specialty in conjunction with the Virginia Kennel Club All Breed Show and Obedience Trial. We had "majors" in all coats, both sexes. We offered sweepstakes classes the day of the specialty and expanded our efforts by "supporting" entries the next day. The "majors" held in the supported entries with the exception of longhair bitches.
Our trophies were hand painted items. Our net gain for the show was $245.

2004 DFCV will hold its fourth Specialty in conjunction with the Virginia Kennel Club All Breed Show and Obedience Trial. We expect "majors" in all coats, both sexes. Our judge for the Saturday Specialty is Eileen Pimlott ; our sweepstakes judge for Saturday June 19 is Karen Wilson; we will "support" entries on Sunday June 20 with judge Clay Coady. Your final support and "strong back" support are both needed. Trophy fund pledge form included – Betty Saady will collect your checks! We will again ask that the classes begin early Saturday morning and are planning a Southwestern Fiesta covered dish lunch for dachshund exhibitors, DFCV members, and new dachshund friends. VKC has offered a space inside for this fiesta – YOUR help will be needed. Stay tuned for more info as we get closer to the June dates.






Dog Legislation Update

It seems like this year there was a very busy legislative season during the VA General Assembly session, and it was both good and bad for dog owners and breeders. It seems like the Animal Rights organizations were really out to do us some damage as dog fanciers, with everything from mandatory spay/neuter bills to insurance and criminal issues. The Virginia Federation of Dog Clubs and Breeders and the Virginia Hunting Dog Owner's Association banded together to get a large number of these bills either defeated outright or tabled until another session (and hopefully they will die before they ever see daylight again). Thank you to those who responded when you were asked to make comments to bill Sponsors. Without constituent feedback, our elected representatives can't know how we, the dog fancy, feels.

For more information on VA legislation, visit the VAHDOA website at:
http://vhdoa.uplandbirddog.com/index.html
or the VA Legislation website at:
http://2004-virginia-animal-legislation.com/
or the VA Federation site at:
http://www.vafdcb.org/
Our club is currently not a member of the VAFDCAB…and perhaps we should renew our membership.
MaryAnne Teal


To Make You SMILE…
Help Urgently Required!

Please help! After two long years of being on a waiting list for an exotic rare breed dog, we were finally notified by the breeder that at long last, our number has come up, and...WE'RE HAVING A PUPPY!

We must IMMEDIATELY get rid of our children now, because we just KNOW how time consuming our new little puppy is going to be! Since our puppy will be arriving on Monday, we MUST place the children in new homes this weekend!!!

They are described as:

One male, white, blonde hair, blue eyes. Four years old. Excellent disposition. He doesn't bite. Name is Tommy. Temperament tested. Current on all shots. Tonsils removed already and very healthy condition! Tommy eats everything, is very clean, house trained and gets along well with others. Does not run with scissors and with a little time and training, he will do well in a new home.

One female, strawberry blonde hair, green eyes. Three years old. Can be surly at times. Non-biter, thumb sucker. Her name is Mary. Temperament tested, but needs a little attitude adjusting occasionally. She is current on all shots, tonsils out, and is very healthy and happy (mostly.) Gets along well with little boys, but does not like to share toys. She is house trained, and would do best in a one child household.

We really LOVE our children, and want to do what is best for them. I hope you understand, that ours is a UNIQUE situation, and we have a real emergency here! They MUST be placed by Sunday night at the latest.

I hear that in Tennessee there are bins where you can leave off strays... does anyone know if there is something like that around here for children?


More Humor…..
If I didn't have dogs.....

1) I could walk around safely barefoot in the dark;

2) My house could be carpeted instead of tiled and laminated;

3) All flat surfaces, clothing, furniture, and cars would be free of dog hair;

4) When the doorbell rang, it wouldn't sound like the SPCA kennels;

5) When the doorbell rang, I could get to the door without wading thru four or five dog bodies who beat me there;

6) I could sit how I wanted to on the couch without taking into consideration where several little furbodies would need to get;

7) I would not have strange presents under my tree like dog bones, stuffed
animals and have to answer to people why I wrap them up;

8) I would not be on a first name basis with a vet;

9) Most used words in my vocabulary would not be: potty, outside, sit, down,
come, no, and leave him/her ALONE;

10) My house would not be cordoned off into zones with baby gates;

11) My purse would not contain things like poop pick up bags and dog treats;

12) I would no longer have to spell the world B-A-L-L and F-R-I-S-B-E-E;

13) I would not buy weird things to stuff into "kongs", or have to explain
why I'm buying them, or what a "kong" is;

14) I would not have as many leaves INSIDE my house as outside;

15) I would not look strangely at people who think having their ONE dog ties
them down too much;

16) I would not have to answer the question why do I have so many dogs from
people who will never have the joy in their life of knowing they are loved unconditionally by something as close to an angel as they will ever get. Who else has a friend who considers you the MOST important thing in the whole wide world all the time.

Author Unknown
(Submitted to newsletter by MaryAnne Teal)

Disclaimer: The staff of the DFCV newsletter is not responsible for the statements and opinions expressed in signed articles or paid advertisements. Opinions are not necessarily those of the staff or administration of the DFCV. Anonymous submittals will not be accepted.